Thresholds for Children's Services
This chapter outlines the thresholds for services which have been jointly agreed with Derby City and also the process for requesting a service.
AMENDMENT
This guidance was reviewed and updated throughout in June 2021.
1. Introduction
This section outlines the thresholds that staff in Derbyshire Children's Services use to determine the level of risk / need and response needed.
In 2019 we agreed a joint Threshold document with Derby City to enable us to provide effective multi-agency support to children and their families. This new document makes it clear that threshold should not be used as a checklist, simply to access either intensive early help services or children's social care. At its heart is agencies being committed to working collaboratively and engaging in quality conversations to understand what life is like for each child and to determine the most helpful and appropriate response to any identified risks / needs. 
As a partnership we have agreed to help families and work with them to help prevent their children's needs escalating. All agencies have agreed to actively seek to work with the child and family at the most appropriate level of need.
2. Stronger Families, Safer Children
The Stronger Families Safer Children Practice Model has been developed by Derbyshire County Council to provide an overarching framework for all Early Help to Safeguarding and Specialist Services.
The practice model was informed by and developed from the learning from serious case reviews and practice learning. It is a strengths-based model which encourages practitioners to remain professionally curious. It supports practitioners to make better informed decisions around what intervention(s) are helpful and to provides practitioners with guiding principles and tools to enable them to work in an efficient, effective, purposeful, collaborative and respectful manner with children, young people and families; with clear, measurable outcomes.
The practice model supports the Joint Derby City and Derbyshire Threshold Document by encouraging professional curiously and promoting quality constructive conversations, with partner agencies and the family, at the point of referral and throughout our involvement with a child and their family. It encourages key questions to be asked when completing and assessment and developing & reviewing plans for children to ensure our involvement and intervention continues to be focused on the right things and remains proportionate and appropriate to the key risks and needs.
The Safety and Well-being Grid is one of the tools, developed as part of the Stronger Families Safer Children Practice Model. This tool aims to help practitioners to focus both on strengths (protective factors) and risks, and to understand the child's lived experience. It also aims to enable them to plan what needs to happen next to help families achieve the outcomes identified for the child(ren).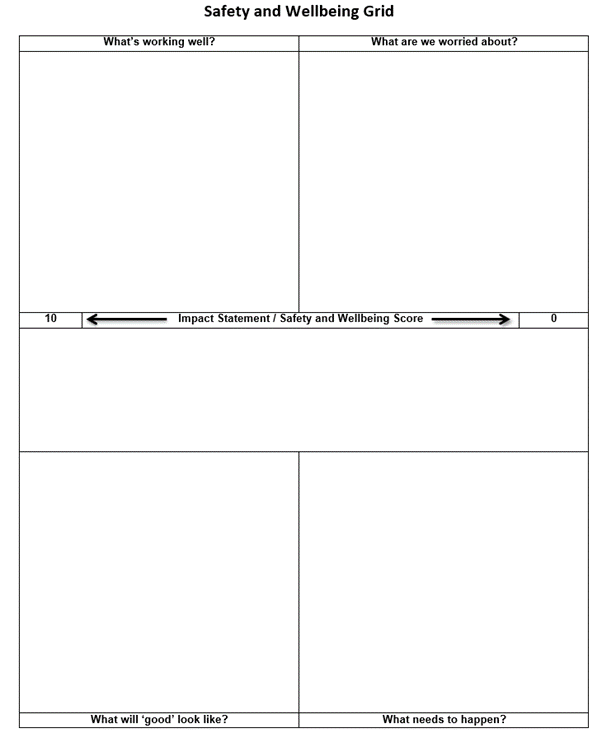 3. Levels of Support
The threshold document outlines the following four levels of support:
Universal – Open Access provision All unborn babies, children and young people will receive Universal Services, however, some children, either because of their needs or circumstances will require extra support from these services to be healthy and safe and to achieve their potential. Universal and individual agencies will be able to take swift action within their services to address these low level needs;
Emerging needs Unborn babies, children and young people with these needs are likely to require co-ordinated support from more than one agency. These services should work together to agree what extra help may be needed to support at an early stage. An Early Help Assessment / TAF is highlighted as the most effective tools to discuss and explore the family's strengths and the emerging needs and coordinate any support needed at this level;
Intensive Unborn babies, children and young people whose needs are more complex, including vulnerable children and those who have a complex disability and /or special education needs, may need more intensive support and a number of the threshold indicators would be present to indicate need at level 3. Prior to requesting services at this level practitioners are expected to have worked with the family within the Level 2 framework before making a referral to Local Authority Childrens Services, unless there is a clear rationale for escalating the unborn baby/child/young person's needs before early help work has been completed. Where the threshold is met for intensive support it will be offered via a Children's Services Early Help Team or a social worker following a single assessment (Section 17, Child in Need);
Specialist Unborn babies, children, young people and families whose needs are complex and enduring will need more specialist support. At this level more than one service is normally involved, with all practitioners involved on a statutory basis either under S17 or S47 of the Children Act 1989 with a qualified Social Worker as the professional lead.